SIN CITY SLAUGHTERFEST
AGES 18 & UP!
OCTOBER 8 & 9, 2021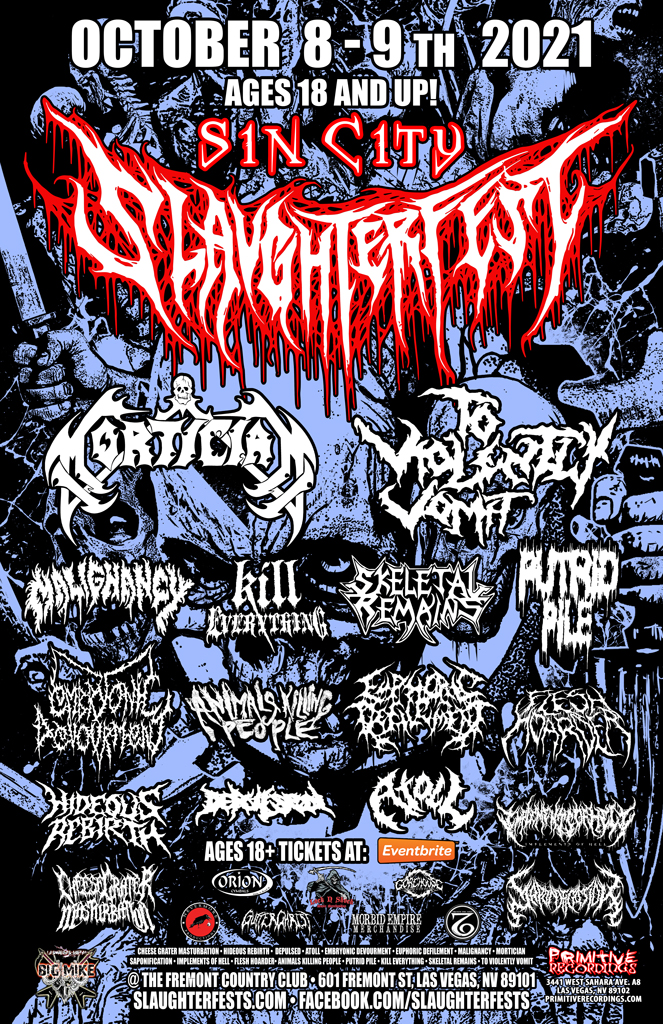 OCTOBER 8 & 9 2021
GET READY TO PARTY! • AGES 18 & UP!
TICKETS HERE
Sin City Slaughterfest October 8-9 2021 Tickets Up Now!
https://www.eventbrite.com/e/sin-city-slaughterfest-tickets-158002095521
Mortician
To Violently Vomit
Malignancy
Skeletal Remains
Euphoric Defilement
Kill Everything
Embryonic Devourment
Putrid Pile
Atoll
Animals Killing People
Depulsed
Flesh Hoarder
Hideous Rebirth
Implements of Hell
Cheese Grater Masturbation
Saponification
Holy crap we made it through a pandemic everyone and now it's time to party! We're so thrilled to FINALLY present this year's SIN CITY SLAUGHTERFEST line up and ticket links to you good people! We're so grateful for the past supporters that picked up tickets when we tried to do this last year (we all know what happened). We hope you can make the new dates and we hope to see you all there for the 100% capacity party this fall!!!
Extra special thanks to the wonderful people at the Backstage Bar & Billiards and the Fremont Country Club we'll be back at this amazing venue again to present this colossal weekend of death metal!
Of course Primitive Recordings LLC is the primary sponsor of the event and will be running some special events at the store in the hours and days before the fest.
We've also got some sick vendors lined up for you too! Tables from: Morbid Empire Merchandise, Gorehouse Productions, Lock and Shock, Gutterchrist, Into the Pit with Annie (I.T.P.A.) and more! Also there will be a killer booth where Tony Kohl will be featuring his amazing art! Amazing!
The Slaughterfest Team can't wait to see all of you in October! So grab your tickets and let's party… VEGAS STYLE!!!!
@The Fremont Country Club • Backstage Bar & Billiards
601 Fremont St, Las Vegas, NV 89101
Brought to you by:
Slaughterfests.com and PrimitiveRecordings.com